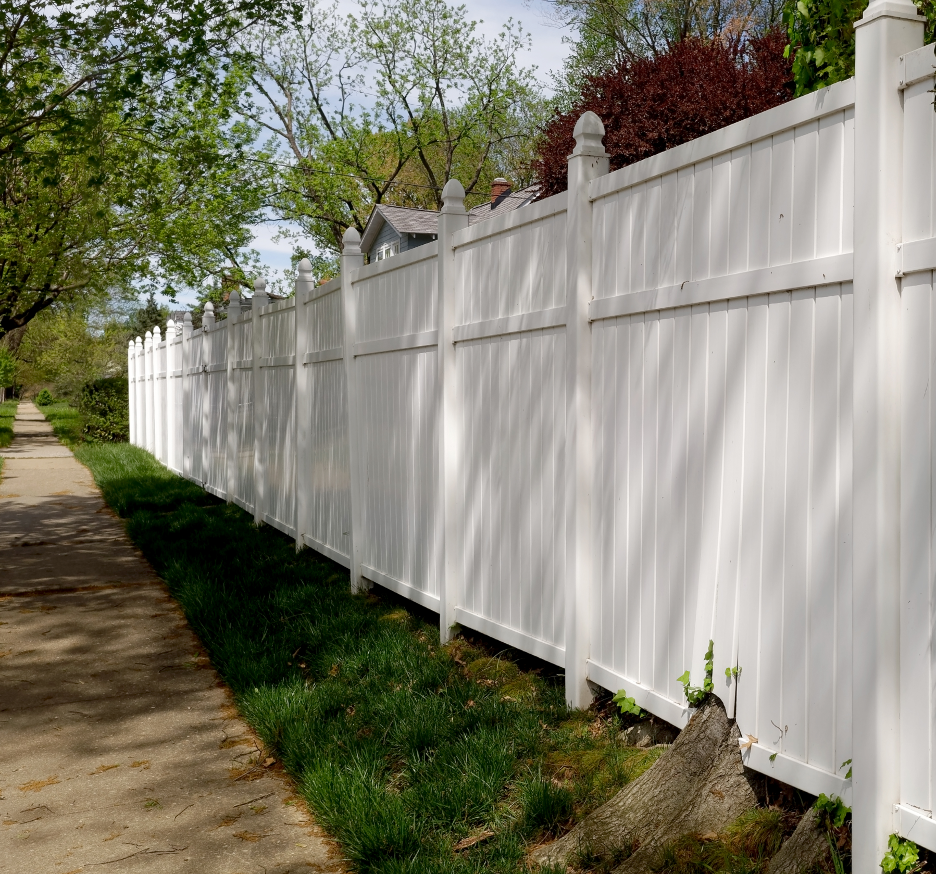 20 Aug

Chain Link or Vinyl: Insights from a Riverwoods Fence Company

Are you considering installing a fence around your Riverwoods, Illinois property? is keeping the price to a minimum your biggest priority? If so, you'll probably want to consider two of the most affordable materials: chain link and vinyl fencing.

Both have their upsides, but their downsides as well. To help you make an appropriate choice, we're going to compare the two materials below.
Chain Link
Pros
Highly Affordable
Simply put, chain link is one of the most affordable fencing materials around. Generally speaking, it costs between $15 and $26 per linear foot. This is a bit less than vinyl, which costs around $17 to $30 per linear foot.
Low Maintenance
In addition to being exceedingly affordable, chain link is also very simple to maintain. In fact, it's arguably the most low-maintenance fencing material there is. Generally speaking, it requires only regular cleanings, with some minor repairs mixed in every few years.
Durable
Aside from being easy to maintain, chain link is also exceedingly durable. In its pristine condition, you can expect chain link fencing to last around 25 years. In a slightly deteriorated (though still functional) condition, it can last for up to 50 years.
Cons
Not Much Privacy
One of the main issues with chain link is that it doesn't offer much in terms of privacy. It's almost entirely transparent. That said, you have the option to cover it in privacy slats, if desired.
Aesthetically Lacking
Most homeowners don't install a chain link fence for the sole purpose of improving their home's aesthetic. Why? Because, when compared to other fencing materials, it's lacking in terms of appearance. That said, it's attractive enough, and might still add some aesthetic value to your property.
Limited Security
In terms of security, chain link is a little complex. Yes, it's fairly difficult to break through and cut. That said, due to the nature of its construction, it's fairly easy to climb over. As such, if it's not lined with barbed wire, it's likely not going to do much to keep out intruders.
However, if you have children or dogs that you're hoping to keep confined, it should get the job done just fine.
Vinyl
Pros
Fairly Durable
Though it might not be quite as durable as chain link, vinyl fencing is still fairly durable. When properly maintained, it can thrive for around 25 years.
Provides a Great Deal of Privacy
Vinyl fencing is installed with straight, opaque panels. Standing at around 6 feet tall, it provides quite a bit in terms of privacy.
Exceedingly Low Maintenance
As far as maintenance goes, vinyl is one of the most worry-free fencing materials there is. Generally speaking, it requires only periodic cleanings. No other maintenance is required.
Cons
Less Affordable Than Chain Link Fencing
Although it doesn't cost as much as wood or wrought iron, by any means, vinyl fencing is a little less affordable than chain link. However, it's important to note here that, in many cases, the difference isn't substantial enough to influence one's decision.
Doesn't Thrive in Windy Conditions
Vinyl is a reasonably durable material. However, it doesn't always hold up all that well against wind. Particularly strong windstorms (and most certainly tornadoes) could result in the destruction of a vinyl fence.
Looking for a Fence Company in Riverwoods, Illinois?
Have you made a choice between vinyl and chain link? If so, and if you're ready to install a fence in Riverwoods, Illinois, there's no better company to call than Action Fence.
We're the area's premier fence installation company, having installed countless fences throughout Riverwoods as well as its surrounding towns. Whether you choose vinyl or chain link fencing, we can install you a fence that is both durable and aesthetically pleasing.
Contact us today for a free estimate!