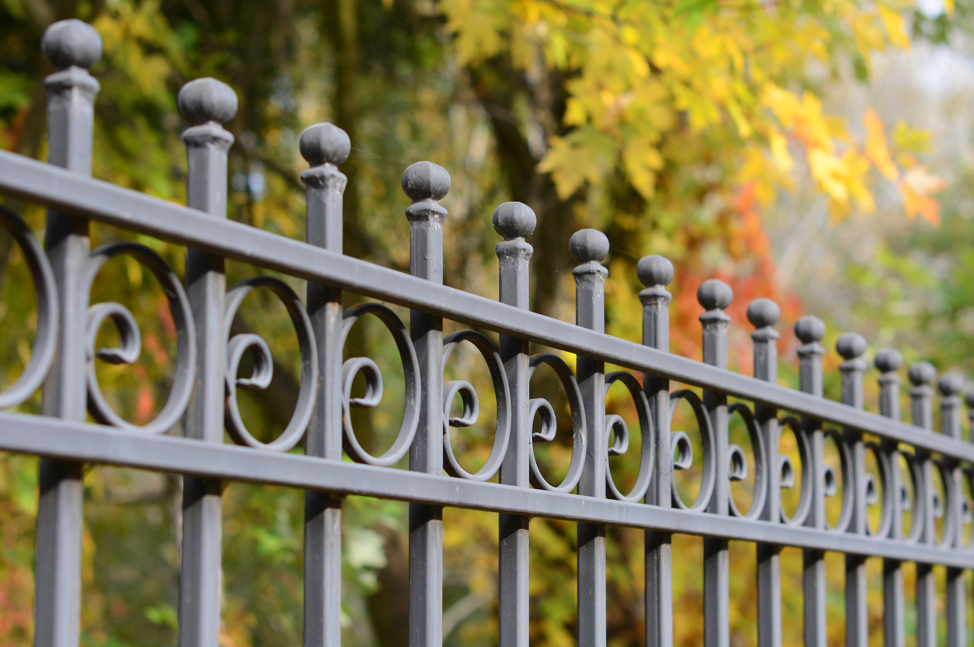 24 Oct

Reviewing the Pros and Cons of Wrought Iron Fencing in Deerfield

Thinking about installing a fence around your Deerfield, Illinois yard? If so, there are a wide variety of materials to choose from. One material you might want to consider is wrought iron.

Wrought iron offers a number of advantages that you simply won't get with other fencing materials. However, like any fencing material, it does have downsides.

Below, we will discuss both the pros and the cons of wrought iron fencing so that you can decide whether or not it's right for your property.
Pros of Wrought Iron Fencing:
Extremely Durable
The fact of the matter is that wrought iron fencing is extremely durable. In fact, in most cases, it will last well past the duration of your lifetime.
You can usually expect your wrought iron fence to last for around 80 years. In some cases, however, you can expect it to last for up to 150 years. Of course, maintenance will need to be carried out in order for a fence to reach that sort of long-gevity.
Aesthetically Luxurious
Though aesthetic preferences are mostly subjective, many would agree that wrought iron fencing is aesthetically pleasing. For this reason, it's often used around high-end structures such as mansions and government buildings.
There's a prestigious look about wrought iron that you do not get with other types of fencing materials. It carries an air of craftsmanship and luxury.
Very Secure
As long as it's built high enough, a wrought iron fence will be remarkable secure. This material is extremely durable and is almost impossible to damage.
When installed by a professional fencing company in Deerfield, it can keep pets in, keep strangers out, and serves as an exceedingly strong barrier between you and the outside world.
Resistant to Insects
As noted above, wrought iron is an exceedingly durable material. Not only can it withstand rain, sun, wind, and physical trauma, it also withstands insects. You won't have to worry about fighting termites when you have a wrought iron fence surrounding your yard. They're impenetrable to parasites.
Cons of Wrought Iron Fencing:
Lacks Privacy
If you're looking for a privacy fence around your backyard, you might not get it with wrought iron. This fencing consists of vertical bars with gaps in between them. In most cases, they are very easy to see through.
While a wrought iron fence will provide a bit of privacy, it won't provide anywhere near the amount of privacy compared to typical wood or vinyl fencing.
On the Expensive Side
With great durability comes great cost, which is why wrought iron fences are typically on the expensive side. Whereas wood fences cost about $3.00 per linear foot, wrought iron fences usually cost $25.00 per linear foot. The payoff, of course, is that wrought iron fences will last much longer than the alternatives.
Maintenance Intensive
While not as maintenance intensive as wood fencing, wrought iron fencing is still fairly maintenance heavy. Over the years, it is recommended that you clean it, remove any rust, and repaint when necessary.
Maintaining a wrought iron fence can be both time-consuming and costly, especially if you pay someone else to maintain it for you.
Interested in Installing Wrought Iron Fencing in Deerfield, Illinois?
Are you interested in installing a wrought iron fence around your yard? Looking for wrought iron fencing in Deerfield, Illinois? If so, we here at Action Fence are the company to see.
Our team of highly-skilled and experienced fencers is well-versed in the installation of wrought iron fencing. We can have your new fence completed in no time.
Contact us today to schedule an appointment!