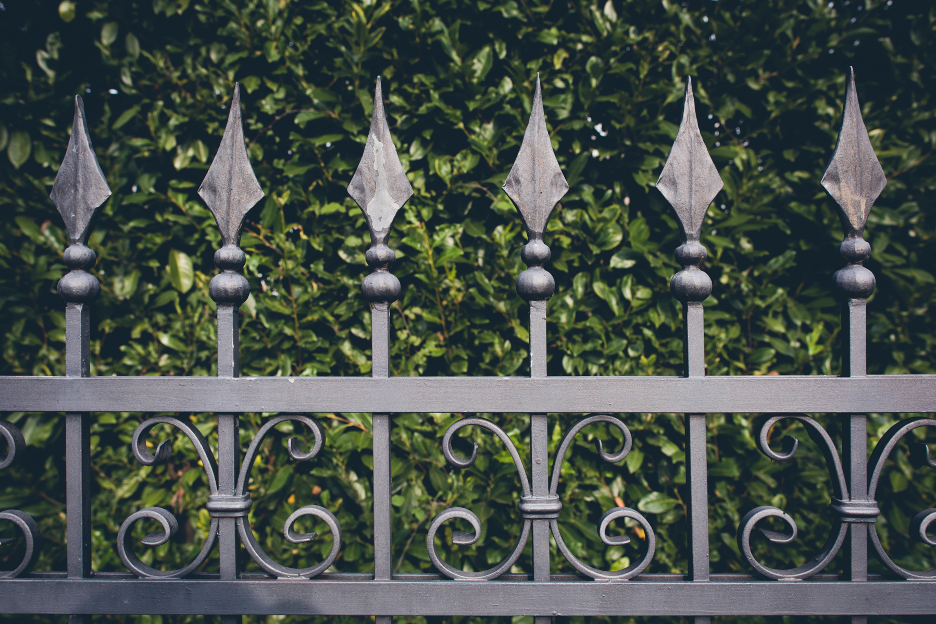 30 Jul

Assessing the Upsides and Downsides of Wrought Iron Fencing; Thoughts from a Cary Fence Company

Are you thinking about installing a fence around your Cary, Illinois property? If so, you have a number of different materials to choose from. Looking for a luxury material? Wrought iron might be right up your alley.

This material offers a variety of advantages that you can't get with most other fence materials. However, depending on who you ask, it does have a few downsides as well. In this article, we're going to assess the upsides and downsides of wrought iron fencing, helping you decide whether it's right for your Cary home.
Upsides of Wrought Iron Fencing
Exceedingly Durable
Simply put, wrought iron fencing is exceedingly durable. In fact, in the majority of cases, it will thrive for several decades, sometimes exceeding 100 years of use.
Wrought iron fencing thrives not only through physical trauma, but through weathering as well. One thing to note here is that, in order to get the most out of a wrought iron fence, you will need to properly maintain it. Failure to maintain it will cause it to deteriorate long before its time.
Aesthetically Pleasing
Though aesthetic preferences are, generally speaking, subjective, the vast majority would agree that wrought iron fencing has an aesthetically pleasing appearance. As such, you'll commonly see it used around older, luxurious houses.
Black, sleek, and sturdy, it brings a touch of charm to any property it encompasses. Plus, its intricate design and decorative elements are a big part of its value.
Highly Secure
Provided that it's built tall enough, a wrought iron fence is extremely secure. Not only is it difficult to scale, but it's also extremely sturdy. As such, it's almost impossible to break through.
When installed properly, wrought iron fencing can confine pets, restrict strangers, and serve as a detractor to anyone who might think about intruding onto a property.
Safe Against Insects
In addition to thriving through wind, sun, rain, and physical trauma, wrought iron fencing can also withstand the effects of insects. Unlike a wood fence, there's no need to worry about termites. This material will hold up for the long-haul.
Downsides of Wrought Iron Fencing
Limited Privacy
Looking for a privacy fence? Unfortunately, you're probably not going to get that with a wrought iron fence. Wrought iron fencing consists of vertical bars, each of which has a large gap in between it and the next bar. In almost all cases, wrought iron fences are very easy to see through.
Now, this isn't to say that they won't provide any privacy. They're better than nothing. However, they don't even come close to wood, vinyl, or composite in terms of blocking the outside view.
Expensive
There's no way around it: wrought iron fences are relatively expensive. For instance, while wood fences cost around 3 dollars per linear foot, wrought iron fences cost well over 25 dollars per linear foot.
It's important to note here that wrought iron can actually offer better value than lower-cost materials. Why? Because it's ridiculously durable, and it lasts much longer than any other type of fence.
Maintenance-Intensive
Though it's not as maintenance intensive as wood fencing, for example, wrought iron still requires a great deal of maintenance. As time passes, it will not only need to be cleaned, but de-rusted as well.
Put simply, maintaining a wrought iron fence is both costly and time-consuming.
Looking to Install a Wrought Iron Fence in Cary, Illinois?
Are you interested in installing wrought iron fencing around your yard? In need of wrought iron fence company in Cary, Illinois? If so, we here at Action Fence are the people to see.
Our fencing contractors are well-versed in the installation of wrought iron fencing. We can have your fence installed quickly and professionally.
Contact us today to schedule an appointment!