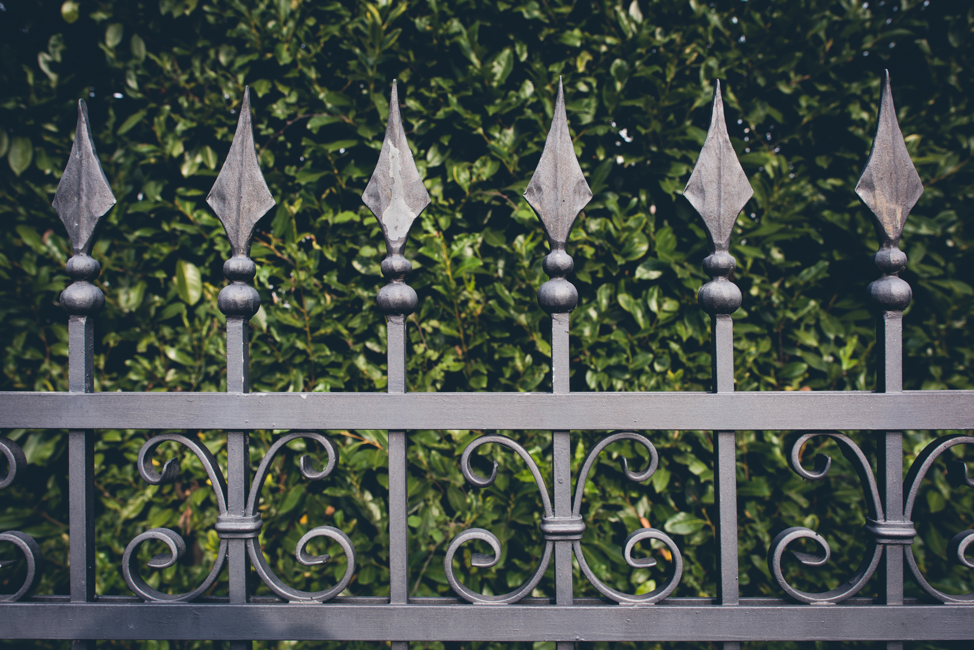 25 Aug

Wrought Iron Fencing in Buffalo Grove: The Pros and Cons from a Buffalo Grove Fence Company

Maybe you're looking to provide some additional security to your yard? Perhaps you're hoping to improve the aesthetic of your property? Whatever the case may be, you're thinking about installing a wrought iron fence in Buffalo Grove.

However, before you go and make the big purchase, maybe you're hoping to obtain a little more information on the material? Fortunately, we're about to provide all the information you will need to know.

Without further ado, here are the pros and cons of wrought iron fencing in Buffalo Grove.
The Pros:
Exceedingly Durable
To put it simply, wrought iron is the most durable fencing material available. This is due to its extreme strength and its superb weather-resistance capabilities.
When properly cared for, this material can thrive for over 100 years. In fact, even if you choose to forego regular maintenance, you can still expect your wrought iron fence to serve its purposes for around 70 years. In either case, you're getting a huge bang for your buck.
Requires Little Maintenance
Like all fencing materials, wrought iron requires some maintenance in order to thrive. However, compared to a material like wood, wrought iron is exceedingly low-maintenance.
While it does need to be sanded and painted from time to time, this usually isn't necessary any less than 5 years apart. In fact, you can usually wait 10 years between each painting and sanding session.
Apart from this, you'll only need to clean it periodically. This can be done with a power washer or a rag and some soap.
Aesthetically Inviting
In terms of aesthetics, wrought iron excels. Manufactured with a variety of detailed intricacies, it possesses an aesthetic that many referred to as "regal". Whether it's surrounding a ranch house or a mansion, it will raise its aesthetic value.
Strong
Apart from steel, wrought iron is the strongest fencing material in existence. Because of this, it's almost impossible to break through. This makes it a great material for security purposes.
The Cons:
On the Expensive Side
Perhaps the biggest problems with wrought iron fencing is that it's expensive, usually costing between $25 and $30 per linear foot. This is around twice the price of vinyl fencing and is at least 3 times the price of wood fencing. One thing to note, however, is that it lasts much longer than these materials, ultimately giving you a greater return on your investment.
Offers Little Privacy
While wrought iron works terrifically for security purposes, it doesn't offer much in the way of privacy. This is because it's manufactured with widely-spaced vertical bars, making it essentially transparent.
Prone to Rust
If you know anything about iron, you may know that it's prone to rust. Wrought iron fencing is no exception to this rule, and it will need to be de-rusted over the years.
If you choose to de-rust your fence on your own, it will likely take up a good deal of your time. If you hire someone to do it for you, it might cost you a good deal of money. However, it's important to remember that all fencing materials require some type of maintenance, and that other fencing materials don't last nearly as long as wrought iron.
Interested in Installing a Wrought Iron Fence in Buffalo Grove?
How do you feel about wrought iron fencing? Is it the material for you? If so, and if you're looking for fencing installation in Buffalo Grove, Action Fence has you covered.
We've installed wrought iron fences around countless properties in the Buffalo Grove area. With a team of highly skilled and experienced fencing specialists on our side, we can handle the task in a quick and efficient manner.
Contact us today to schedule an appointment!