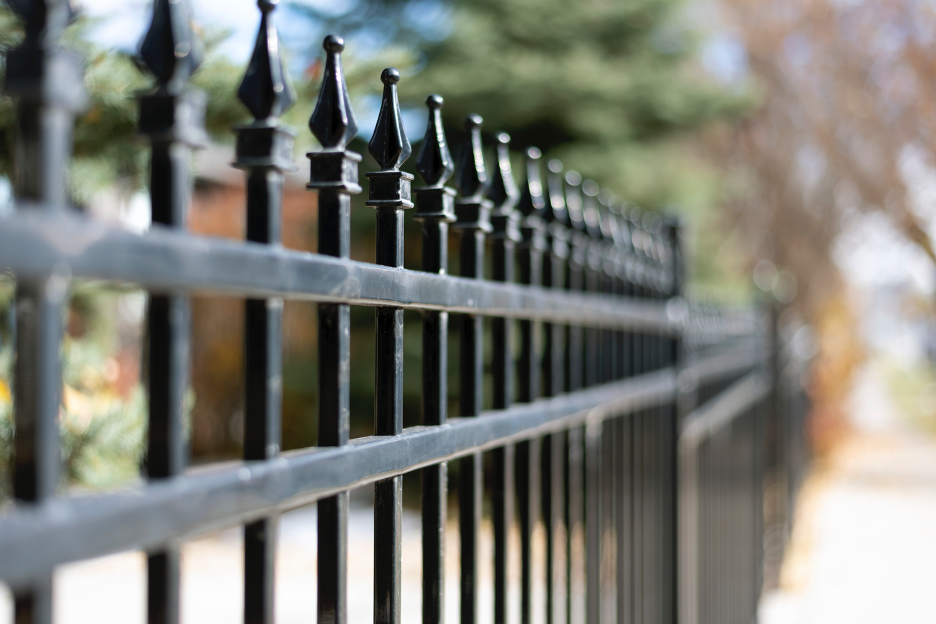 30 Sep

Wrought Iron Fencing: A Winnetka Fence Company's Guide

There is no shortage of fencing materials on the market today. From wood, to vinyl, to composite, to steel, you have a wide variety of options to choose from. However, if you're looking to improve the aesthetic of your property with a fence, there's no better material to choose than wrought iron.

Interested in learning more about wrought iron fencing? Then read below. This Winnetka fence company is going to explain everything you should know.
The Pros of Wrought Iron Fencing
Wrought iron fencing possesses a number of positive attributes. We'll discuss the most prominent of these attributes below.
Extremely Durable
Simply put, wrought iron is the most durable fencing material on the market. This material can thrive for well over 100 years, maintaining both its physical and visual benefits.
Note, though, that if you want to get the most out of wrought iron, you'll want to properly maintain it. Failing to maintain your wrought iron fencing will reduce its longevity by decades. It will also cause it to lose its aesthetics, which are a big part of its draw.
Aesthetically Pleasing
There are a lot of great looking fencing materials. However, if you're looking for a material that's luxurious, regal, and classy, there's one fencing material that fits the bill above all others: wrought iron.
Intricately shaped and adorned with pointed columns, wrought iron immediately stands out amongst its competitors. Though it's most commonly used around luxury homes and properties, it's capable of elevating the aesthetic of any property.
In the vast majority of cases, wrought iron fencing is painted black. However, bronze, silver, and other colors are available as well.
Highly Secure
In terms of security, wrought iron is one of the top fencing materials on the market. Impressively strong and very difficult to climb, it keeps intruders out and keeps pets and children in.
If your primary goal is security, wrought iron wouldn't be a bad choice. It's right up there with steel as the most secure fencing material.
The Cons of Wrought Iron Fencing
Though it excels on a number of fronts, wrought iron has its faults as well. The downsides of wrought iron fencing include the following:
Maintenance Intensive
Perhaps the biggest drawback with wrought iron fencing is its need for maintenance. No, it doesn't require as much maintenance as wood fencing, for example. Nonetheless, it does require extensive work every five to seven years or so, in addition to needing to be cleaned on a regular basis.
Wrought iron is susceptible to water. The more rain and snow it's exposed to, the quicker it will rust. Failure to remove this rust in a timely manner can result in rapid deterioration. As a result, if you want to get the most out of your wrought iron fence, you'll want to de-rust it as soon as any rust forms.
But de-rusting alone isn't always enough. To keep your fence looking sharp, you should also repaint it every so often. This is fairly intensive work considering its frequency (again, every five to seven years).
Expensive
Simply put, wrought iron fencing is expensive — one of the most expensive fencing materials on the market, in fact. Not only is its purchase price considerably high, but so too are the costs associated with its maintenance.
It's important to note, however, that with wrought iron's extreme durability, it can actually end up being a fairly cost-effective material. Sure, it might be two times the price of wood fencing initially, but it also outlasts wood fencing by three to five times. That's a substantial value for the price.
Need the Assistance of a Winnetka Fence Company?
Are you interested in installing wrought iron fencing around your property? Are you in need of a Winnetka fence company? If so, Action Fence is here to help.
We've installed wrought iron fencing around a variety of Winnetka area properties. Regardless of your fencing needs, our team can help you.
Contact us today to request a free quote!