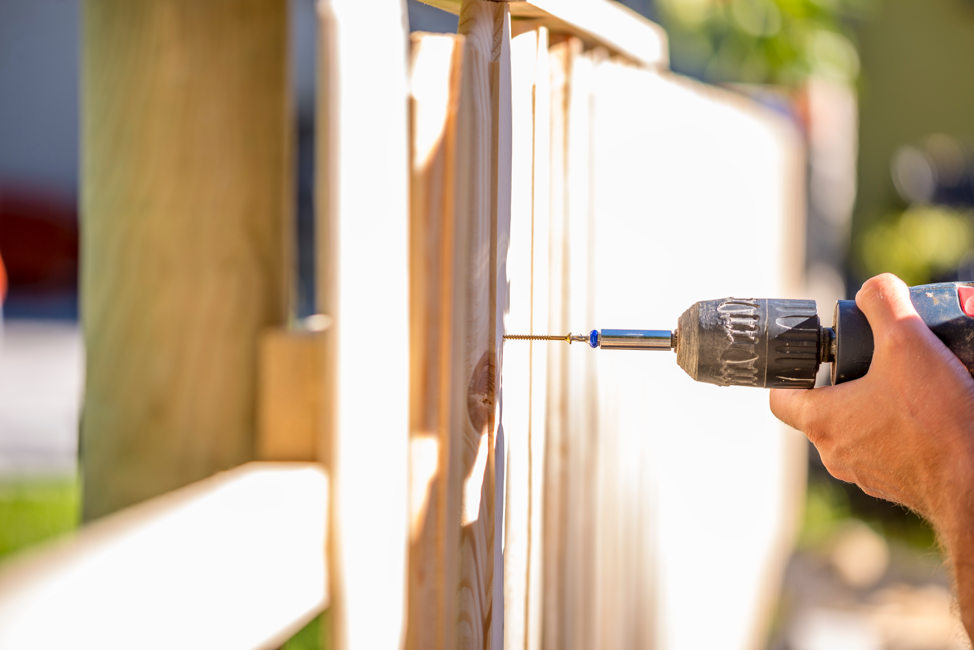 15 Jun

Which Type of Wood Fence is Right for You? Choosing a Style

Wood is one of the oldest fencing materials in existence, having been used for fences dating back thousands and thousands of years ago. As such, it has been utilized in a number of different ways, leading to the manufacture of all types of fence styles.

Today, wood fencing is used in a number of different configurations, serving a range of different purposes and supplying an array of different styles. Curious as to what kinds of wood fences are available to you? Need a little help choosing one?

If so, you're in the right place. Below, we're going to discuss the most common types of wood fences in the world today.
Board-on-Board
Board on board fences contain staggered panels that alternate from side to side. Because they contain alternating boards, they allow through a good deal of air without allowing through much light or visibility.
Possessing a unique aesthetic, these fences come in a wide variety of heights and styles. Whether you're looking for standard straight panels or picketed panels, you can have them installed on a board-on-board fence.
Picket
The centerpiece of the quintessential American Dream, the picket fence is capable of bringing a welcome and inviting aesthetic to any residential property. Consisting of narrow, spaced panels, these fences allow through a great deal of wind and sunlight.
While picket fences don't provide a great deal in the way of privacy, they do offer some security, specifically for the purpose of reigning in dogs and small children. If you're looking to supply your home with an iconic look, a picket fence can accommodate you.
Lattice
Hoping to bring your home a unique aesthetic? If so, you might consider adding a lattice fence. Lattice fences possess intricately designed, see-through tops, and add a great deal of atmosphere on sunny summer days.
As far as functional capabilities go, lattice fences work well for both privacy and security purposes. While they shouldn't be used primarily for their privacy or security capabilities, they do possess enough of both qualities to serve residential purposes.
Post and Rail
The most rudimentary of wood fences is the post and rail fence. These fences consist of only two to four horizontal panels, spread far apart so as to allow through a great deal of visibility and sunlight.
Post and rail fences provide essentially no privacy whatsoever. In terms of security, they're only sufficient for keeping in large animals like horses and cows. However, they do provide a unique and rustic charm.
Louver
Louver fences possess long, narrow, widely-spaced panels. These vertical panels are bounded on both their tops and bottoms by long, horizontal panels and generally possess no reinforcement panels in their middles.
Together, the configuration of these panels creates a feeling of length and openness. Allowing in ample amounts of light and visibility, louver fences are terrific for security purposes, but are lacking in privacy.
Stockade
Stockade fences provide terrific security and privacy capabilities. Featuring tightly lined vertical panels, they are entirely opaque and impossible to see through.
What really makes stockade fences unique are their tops. Pointed and sharp, these panels serve as terrific blockades to potential intruders. In other words, if you want to keep outsiders from coming into your yard, a stockade fence will serve you well.
Utilize A Wood Fence Installation Company in Barrington, Illinois
Are you interested in installing a wood fence? Looking to utilize wood fence installation in Barrington, Illinois? If so, Action Fence is the company to call.
In business since 1975, we've installed fences around countless Barrington area homes. Regardless of the type of wood fence you're hoping to install, our team of seasoned installers can accommodate you.
Contact us today to discuss your fencing needs!