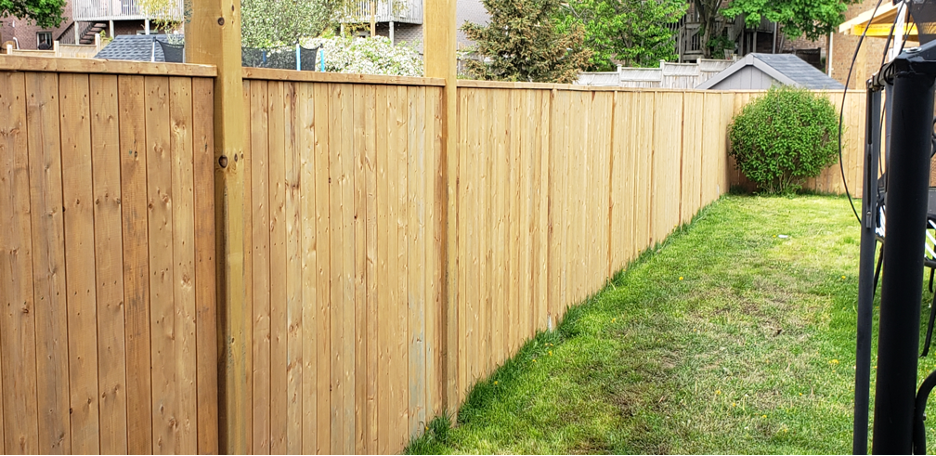 20 Oct

The Pros and Cons of a Wood Fence: Insights from a Mundelein Fence Company

Are you thinking about installing a fence in Mundelein, IL? Maybe you want a little more privacy in your yard? Unfortunately, when it comes to installing a new fence, many homeowners are uncertain about the material they should use.

Perhaps you've given some thought to wood fencing, but you're now wondering: is wood fencing a good choice? Like any fencing material, wood fencing has both its pros and cons. To help you decide whether it's the right material for you, we're going to cover those pros and cons in detail below.
The Pros
Aesthetically Pleasing Appearance
One of the biggest pros of wood fences is their aesthetically pleasing appearance. Possessing a sturdy and rustic charm, wood fences can instantly elevate the cosmetic quality of any property that they surround.
Plus, because they can be painted, they can come in any color that you desire. Available in a variety of different styles, there's sure to be a wood fence that fits in with the overall look of your residence.
Tons of Privacy
If you're looking for a privacy fence, wood is one of the best options. Though it can be used to suit a number of different fence styles, it's most commonly used to create opaque, vertically planked fences. As such, it can be built to block off outside visibility entirely.
Plus, you can build your wood fence to any height that you like, allowing you to accommodate a number of different situations. Note, however, that common wood fences usually stand at around 6 feet tall.
Good Security
Wood fences are also fairly secure. Though there are more secure materials on the market, for most residential purposes, wood will more than suffice.
Not only are wood fences difficult to climb, but they're also fairly solid. As such, it's very uncommon for intruders to break through them — let alone dogs and small children.
Reasonable Cost
In terms of purchase and installation costs, wood fences are fairly reasonably priced. You can generally have one installed for between $17 and $30 per linear foot. Note, though, that high-end woods can cost you up to $45 per linear foot.
The Cons
High Maintenance
Simply put, when compared to other fencing options, wood fences are exceedingly high-maintenance. They are the most high-maintenance fences in existence, and they can take a lot of time and money to maintain.
Not only do wood fences need to be cleaned regularly, but they also need to be stained and sealed. If you don't seal your fence, it will prematurely succumb to water and sun damage. If you don't stain (or paint) your wood fence, it can lose its aesthetic quality.
Not as Durable as Some Other Materials
Wood fencing provides decent durability — it usually lasts for between 15 and 25 years. This puts it in the same class as vinyl and chain link, in particular.
Note, though, that there are other fencing materials that outperform wood in terms of durability. These include composite (40 to 60 years), steel (80 to 100 years), and wrought iron (over 100 years).
Susceptible to Cracking
The last con we'll discuss is the fact that wood fences are vulnerable to cracking. If subjected to rapid temperature changes or physical trauma, your wood fence could very well incur cracks. Yes, you can seamlessly replace cracked panels, but you should, at the very least, prepare yourself for the possibility of the fence cracking.
Need the Help of a Mundelein Fence Company?
Is wood fencing the right choice for your property? looking for the help of a Mundelein fence company? If so, Action Fence has you covered.
We've installed fences around countless Mundelein properties. Regardless of whether you choose wood or some other material, our team of dedicated installers can help you.
Contact us today to request a free quote!