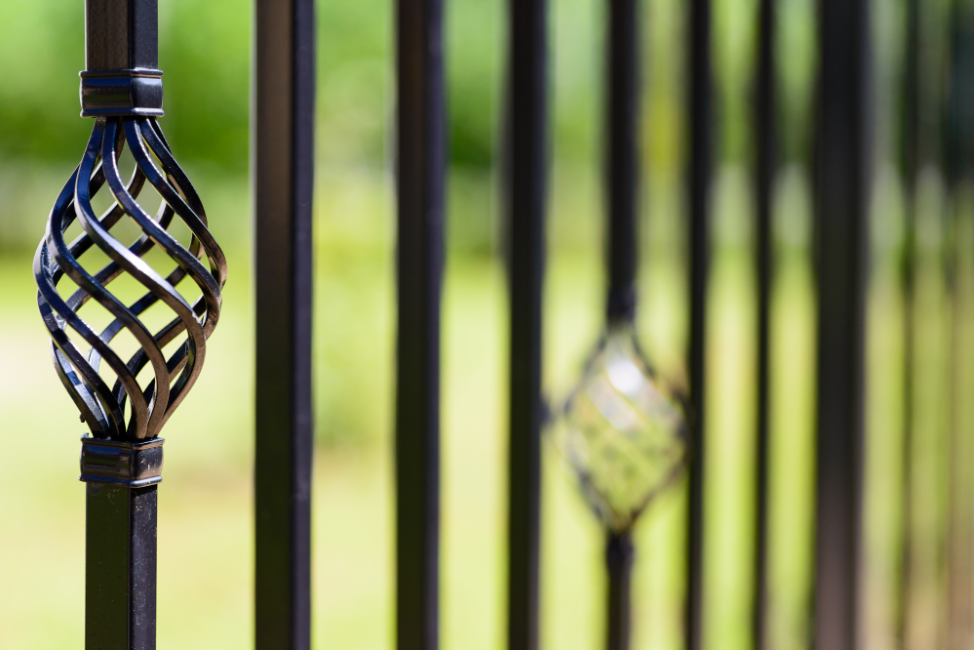 22 Jan

Steel vs Aluminum vs Wrought Iron: A Lake Bluff Fence Company Compares

Perhaps you're looking for a way to keep your dog in your yard? Maybe you're looking for a little more security? Whatever the case may be, you're thinking about installing a fence. Now, all that's left to do is to find the right material.

Interested in installing a metal fence, in particular? If so, you have three options to choose from: steel, aluminum, and wrought iron. Wondering how they compare against one another? This Lake Bluff fence company has you covered.
Aesthetics
Aesthetically speaking, steel, aluminum, and wrought iron are all similar. That said, wrought iron is considered to be a little more regal in nature. It has a luxurious appearance and is often seen surrounding luxurious houses.
Steel and aluminum fences, on the other hand, are a little more industrial in appearance. They have a somewhat mass-manufactured look that is attractive but straightforward. As such, you're much more likely to see them around commercial properties than around residential properties.
Durability
Aluminum, steel, and wrought iron are all very durable fencing materials. However, when compared, wrought iron reigns supreme.
Wrought iron can last for well over 100 years. Steel, on the other hand, generally lasts around 80 years. Aluminum typically tops out at around 60 years.
Note, however, that all of these figures are contingent on proper maintenance. If a fence isn't maintained properly, it will deteriorate long before its time.
Weather Resistance
All three of these materials offer above-average weather-resistance capabilities. However, steel and aluminum are much more resistant to weather than wrought iron. Wrought iron is fairly susceptible to rust, and therefore, it must be maintained in order to reach its full potential.
Maintenance Needs
As was just noted, wrought iron requires regular maintenance in order to reach its full potential. Its susceptibility to rust requires that it be sanded and repainted every 3 to 5 years. In addition, it should also be cleaned yearly.
While aluminum and steel require regular cleanings, they don't need to be sanded or repainted. Because they hold up so well through weather exposure, they can thrive for decades without any rust accumulating on them.
Ease of Installation
When it comes to ease of installation, steel, aluminum, and wrought iron are on equal footing. While they're not the easiest of materials to install, they can generally be trimmed and shaped to fit on hills and slopes.
In the end, there's no reason to stress over the installation of these materials. If you want one of these materials installed, a professional fencing company will be able to carry out the task for you.
Cost
In terms of cost, the three materials are very similar. However, in most cases, you'll find that steel is the most expensive, with wrought iron coming in second and aluminum coming in third. You can generally expect to pay somewhere between $1,500 and $3,000 for a metal fence of this kind.
One thing to note, however, is that their maintenance costs vary. Typically speaking, wrought iron will incur the most maintenance costs over time. The maintenance costs for aluminum and steel are fairly low in comparison.
Hire a Lake Bluff Fence Company to Install Your Fence
Are you interested in installing a steel, wrought iron, or aluminum fence on your property? Looking to hire a Lake Bluff fence company? If so, we here at Action Fence are the people to see.
We've installed a variety of steel, aluminum, and wrought iron fences throughout the Lake Bluff area. Regardless of the type or style of fence you're looking to install, we can accommodate you.
Contact us now to discuss your needs!