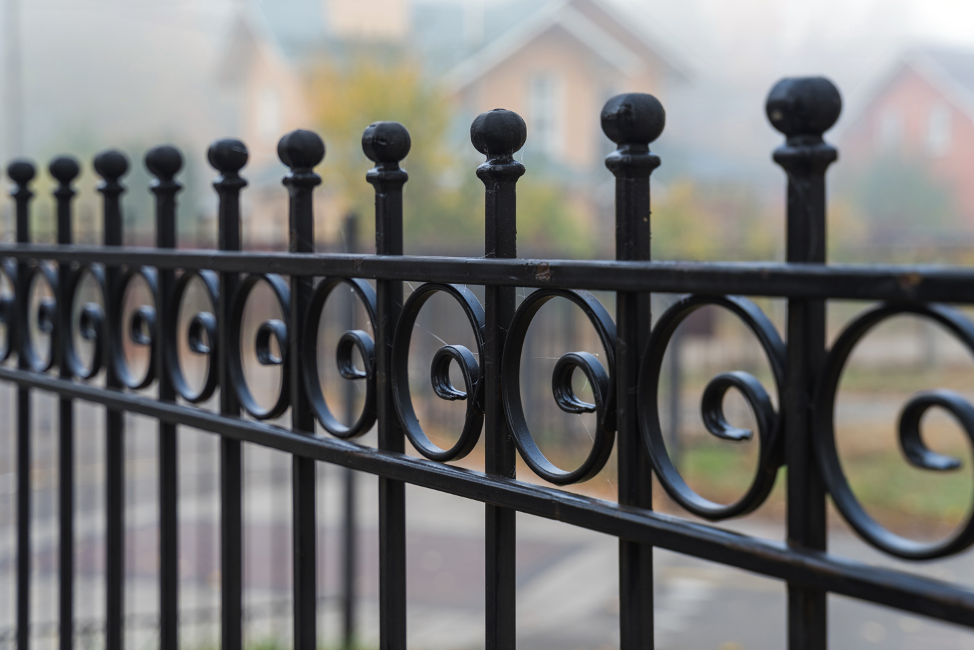 30 Mar

Wrought Iron Fencing: An Arlington Heights Fence Company's Maintenance Guide

Wrought iron fences are some of the most beautiful fences in existence. That said, they're prone to rust. As such, it's important that they are maintained on a regular basis.

Do you own a wrought iron fence? Thinking about installing one? Looking for some maintenance tips? This Arlington Heights fence company has you covered. Here are some tips for you to utilize.
Keep the Fence Clear of Shrubbery
One of the keys to maintaining wrought iron fencing is to ensure that it's not in contact with shrubbery. Shrubbery poses a problem because it can trap water. If water is trapped against your fence, it can cause it to rust prematurely.
As such, it's important to trim your shrubbery on a regular basis. Whether it's flowers, garden plants, hedges, or otherwise, it should be kept at least a half a foot from your fence.
Remove Rust
Whether you eliminate shrubbery or not, your wrought iron fence will incur rust over time. This is a natural response — because it exists outside, it will come into contact with precipitation on a regular basis.
That said, there is a way to keep rust damage to a minimum. All you have to do is remove it. This can be done with the use of a rust remover liquid and a bit of sandpaper. If you remove the rust early in its existence, you will prevent it from spreading, prolonging the lifespan of your fence significantly.
Apply Primer
In addition to removing rust as it presents itself, you should also be working to prevent rust proactively. This can be done with the use of a primer. A primer is a clear solution that lessens the effects of water on metal, which extends the lifespan of the fence.
A new coat of primer should be applied to your fence every 5 years or so. That said, there's nothing wrong with applying coats in shorter intervals.
Paint It
If you want to keep your wrought iron fence looking nice, you should paint it regularly. A new coat of paint will not only help to prevent rust, but it will also give your fence with a glowing shine. Like primer, paint should be applied every 5 years or so.
Clean It
One of the most important aspects of wrought iron maintenance is cleaning. Scrubbing down your fence will not only help to prevent residue buildup, but it will also prevent rust buildup as well.
Cleaning a wrought iron fence is fairly straightforward. Just apply soap and water to a rag and use that rag to wipe down both sides of the fence. A cleaning every 6 months or so should suffice. However, if you really want to keep it looking nice, you can clean it every 2 months or so.
Replace Hardware
Over time, your fence is bound to incur miscellaneous forms of abuse. In the majority of cases, this will lead to rust and paint damage. However, in other cases, the fence hardware itself might become damaged.
Should any of the hardware on your fence become damaged, a fencing company can help you replace it. This will not only improve the aesthetic of your fence, but its functionality as well.
Need the Help of an Arlington Heights Fence Company?
Are you looking for an Arlington Heights fence company to help maintain your wrought iron fence? If so, Action Fence is the company to call.
Our team is well-versed in the maintenance of wrought iron fences. Whether your fence is new, old, or somewhere in between, we can help.
Contact us today to schedule an appointment!