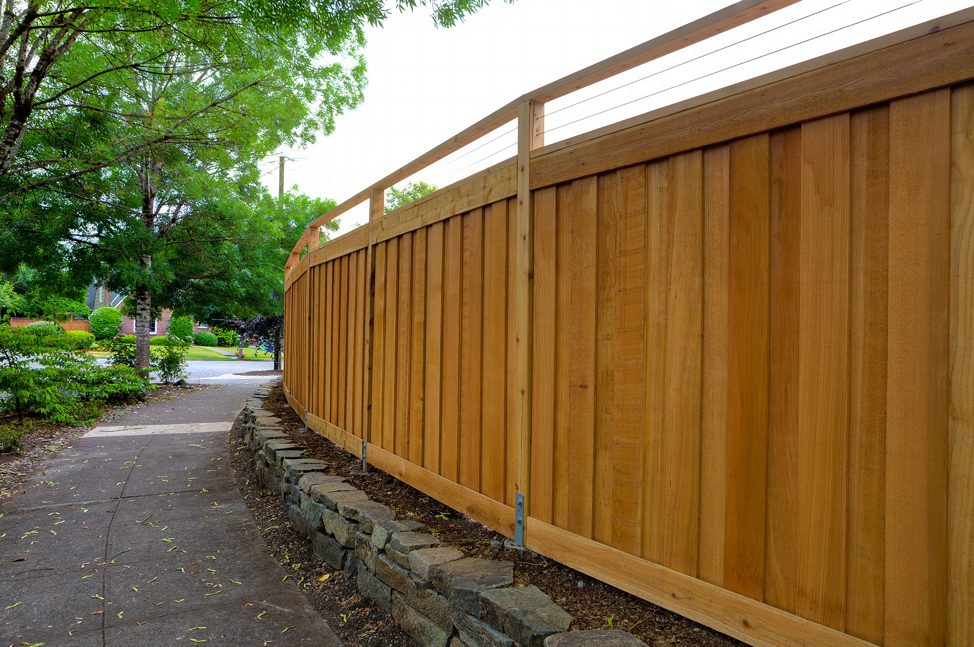 22 Feb

The Upsides and Downsides of Common Fencing Materials

Maybe you're looking to add some privacy to your home or commercial property? Perhaps you need a way to keep your dog secured in your yard? In either case, you're probably thinking about installing a fence.

If this is the case, you have a number of different fence materials to choose from. Are you wondering which material is right for your purposes? This article should help.

Below, we're going to review the upsides and downsides of common fencing materials in Long Grove, Illinois. Let's get started!
Wood
Wood fencing has been around forever, and rightfully so. It possesses a beautiful aesthetic that offers a great deal of atmosphere to any yard that it encloses. Plus, it also offers top-notch security and privacy.
However, functionally-speaking, wood fencing can be a bit problematic. While it will generally last for as long as vinyl fencing (approximately 20 years), it requires a good deal of maintenance in order to do so. In most cases, you'll need to stain it, patch it, and repair it on a fairly regular basis.
Vinyl
As affordable as fencing materials come, vinyl is a great option on a number of fronts. Low-maintenance and tough, it stands up to moisture, sunlight, and physical trauma with little to no trouble. It will typically thrive for around 20 years.
The only potential problem with vinyl fencing is that it's considered to be aesthetically bland. However, this shouldn't do anything to deter you from installing it. In fact, some people actually enjoy the look of vinyl fencing.
At the end of the day, it's a solid fencing material that can serve just about all necessary purposes.
Composite
Composite fencing is, in a way, a combination of vinyl and wood fencing. It's made out of synthetic plastic polymers and wood pulp, lending it the look of natural wood, but the functionality of vinyl. Durable, low-maintenance, and resistant to all types of wear and tear, it generally lasts for around 25 to 30 years.
The one potential problem with composite fencing is that it's more expensive than both vinyl and wood fencing. However, if you're looking for an attractive fencing material that is low-maintenance, secure, and offers a good deal of privacy, composite will accommodate you.
Wrought Iron
Wrought iron fencing thrives on a number of fronts, offering top-notch durability, weather-resistance, and toughness. Terrific for security purposes, it requires almost no maintenance whatsoever and will generally last for well over 80 years.
However, its top-tier functionality comes at a price. You will need to pay substantially more for wrought iron fencing than you would for wood, vinyl, or composite fencing. Not to mention, it offers very little as far as privacy.
Chain Link
Chain link is one of the most commonly used fencing materials in the United States. This metal fencing material offers very little privacy, but is capable of providing a great deal of security at an affordable price. Tough and easy to maintain, it can withstand just about anything. Generally, chain link will last for around 20 years.
The reason that some individuals choose to stay away from chain link fencing is that it's somewhat aesthetically limited. While it doesn't exactly look bad, it's not particularly attractive either.
Ready to Install a Fence in Long Grove, Illinois?
Are you ready to install a fence in Long Grove, Illinois? Have you chosen a material? If you need help, or if you're looking for a company to install your fence, Action Fence is the company to call for Long Grove area fencing needs.
Our team of fence installation experts has installed all types of fences around all types of yards. Regardless of your fencing needs, we can accommodate you.
Contact us now to discuss your needs!