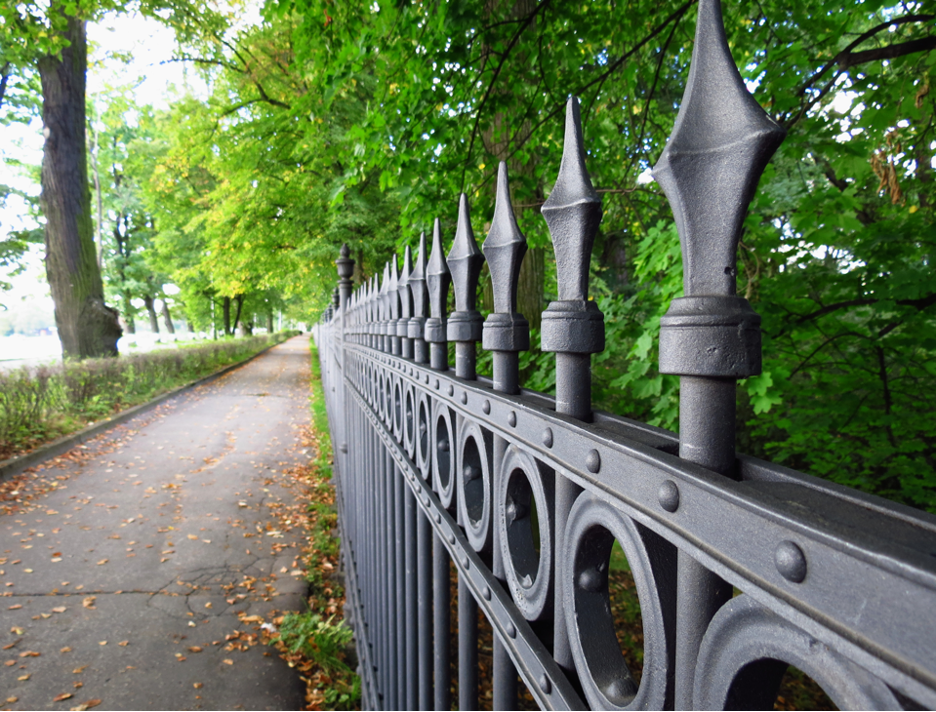 10 Oct

Steel vs Wrought Iron Fencing: Advice from a Mettawa Fence Company

Are you looking to install a fence around your property? Looking to use one of the more durable materials on the market? If so, you should focus on steel and wrought iron.

These two metal fencing materials are similar but different. Curious as to how they compare? This Mettawa fence company has you covered. Here's an in-depth comparison of steel and wrought iron fencing.
Durability
Both steel and wrought iron fencing are exceedingly durable, thriving for decades and decades each. However, when compared, it's not all that close: wrought iron is a lot more durable than steel.
Whereas steel can sometimes last as long as 100 years, wrought iron can far exceed 100 years, sometimes thriving for as long as 150 years. Other than maybe stone, there's no other fencing material with that level of durability.
It's important to keep in mind, however, that in order to get the most out of a wrought iron fence, you'll need to properly maintain it over the years. Steel fences, on the other hand, require very little maintenance, so they aren't all that dependent on being maintained regularly.
Maintenance
As was just noted, wrought iron fences require quite a bit more maintenance than steel fences. As such, their upkeep is both more expensive and more time-consuming.
Whereas a steel fence generally only needs to be cleaned from time to time, a wrought iron fence needs to be cleaned, de-rusted, and repainted. This de-rusting and repainting usually needs to take place every 7 to 10 years or so.
As such, if you're looking to keep maintenance to a minimum, steel is probably the better option for you. If, on the other hand, you don't mind maintenance, wrought iron is a viable option as well.
Aesthetics
When it comes to aesthetics, both steel and wrought iron have positive attributes. Whereas steel has a sleek, professional look to it, wrought iron has a dominating, regal look to it. Both can help to elevate the atmospheres of their respective properties.
In the end, it comes down to personal preference. Neither material will do anything to detract from the overall aesthetic of your home. However, you might find one aesthetic to be more inviting than the other.
Cost
As far as cost goes, there's quite a bit of difference between these two materials: wrought iron fencing is a great deal more expensive than steel fencing. Whereas wrought iron fencing generally costs between $35 and $75 per linear foot, steel fencing generally costs between $15 and $45 per linear foot.
Wrought iron is also the more expensive material to maintain. After all, regular de-rusting and painting costs can add up over the years. One thing to keep in mind, however, is that the durability of wrought iron might actually make it the more affordable material in the long run. As was noted above, it can as much as double the lifespan of steel.
As such, it benefits not only the current homeowner, but future owners of the home as well. This equals a reduced total fencing cost and, if you decide to sell your home, a higher resale value.
Utilize the Services of a Lake Mettawa Company
Do you need help installing a fence around your property? Looking to utilize the services of a Mettawa fence company? If so, we here at Action Fence are here to help.
We've installed fences around countless Mettawa properties, offering those properties more privacy, security, and an enhanced aesthetic. Regardless of the material you choose to use for your fence, our team of fencing specialists can assist you.
Contact us today to discuss your needs!