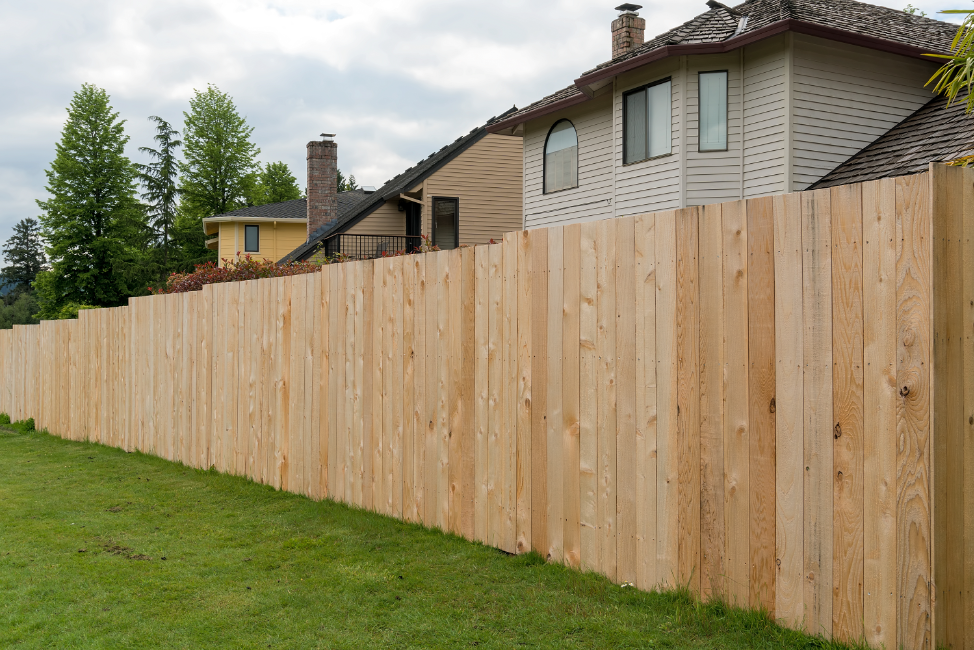 07 Jan

Which Fencing Material is Right for You? An Arlington Heights Fence Company Weighs In

Hoping to add some security to your property? Looking for a little more privacy in your yard? If so, a fence is exactly what you're looking for.

Interested in installing a fence? First and foremost, you're going to have to choose a material. Fortunately, you have quite a few to choose from. To help you make the right choice, this Arlington Heights fencing company is going to discuss them all below.
Chain Link
If you're looking for a hassle-free material that's affordable and effective, you should consider installing a chain link fence. Capable of thriving for up to 30 years of use, chain link provides above-average security. Not only does it help to keep intruders out, but it also helps to keep kids and pets in.
While it doesn't excel in terms of privacy, it can be adorned with privacy slats. These will, for the most part, block off outside views. Plus, they'll help to enhance the fence's aesthetic.
Wrought Iron
On the other end of the metal fence spectrum is wrought iron, a unique and attractive material that can often be seen surrounding luxury houses. As durable as fencing materials come, it can last for over 100 years.
While wrought iron doesn't provide a lot of privacy, it does provide top-notch security. Tough and strong, it's almost impossible to get through.
Note, however, that wrought iron requires quite a bit of maintenance. Not to mention, it's expensive to purchase.
Steel
Steel is similar to wrought iron in terms of functionality, but it possesses some major differences as well. Perhaps its biggest difference is its aesthetic. Whereas wrought iron is considered regal and luxurious by many, steel is often considered cold and industrial.
There's also the issue of maintenance. Whereas wrought iron requires sanding, repainting, and cleaning, steel only requires cleaning. That said, when both are properly maintained, wrought iron tends to outlast steel by about 20 years.
Steel fences don't provide a lot of privacy. However, they're about as secure as fences come. Not only are they difficult to smash through, but they're difficult to climb over as well.
Wood
One of the most popular fencing materials is wood, which provides tons of privacy but is somewhat limited in terms of security. Exceedingly affordable, it's one of the best bargain materials in existence.
The big problem with wood, of course, is that it requires regular maintenance. Not only does it need to be cleaned, but it also needs to be sealed, stained, and/or painted. Even with this maintenance, it typically tops out at around 30 years of use.
Vinyl
If you're looking for something that's low-maintenance and affordable, you might consider vinyl. Entirely water-resistant, it's built to thrive for around 30 years.
While it's a good privacy fence material, vinyl isn't exactly well-suited for security purposes. Due to its thinness, it can fairly easily be smashed through. Nonetheless, it's suitable to confine both small kids and pets.
All in all, vinyl is a solid material. For its price, you're not going to find much better.
TREX
TREX fencing is like a combination of wood and vinyl. Not only does it possess the weather-resistance capabilities of vinyl, but it also possesses an aesthetic that's similar to wood.
Low-maintenance and durable (it generally lasts over 50 years), it offers tons of bang for its buck. Strong and opaque, it's great for both privacy and security purposes.
With that being said, TREX is fairly expensive. As such, some might struggle to pay the upfront costs for its purchase and installation.
Utilize the Services of an Arlington Heights Fence Company
Are you looking to utilize the services of an Arlington Heights fence company? If so, we here at Action Fence are the company to call.
Our team has installed all types of fences in the Arlington Heights area. Whether you're looking to install wood, steel, vinyl, or otherwise, we can accommodate you.
Contact us now to get the process started!