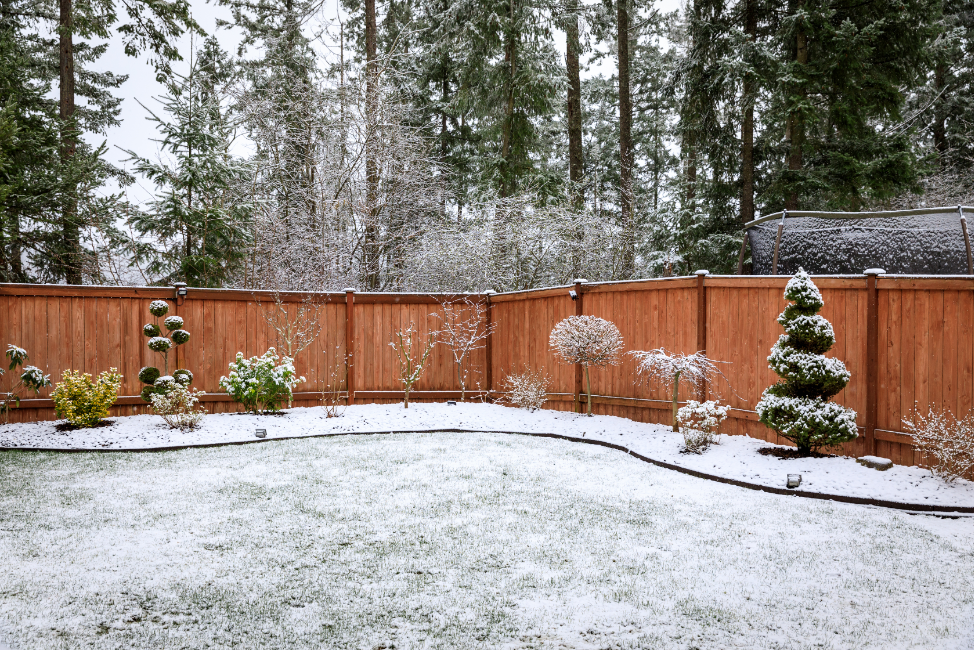 15 Dec

Preparing Your Wood Fence for Winter Weather: Advice from a Highland Park Fence Company

We've already experienced a bit of winter weather as it is. However, it's only going to get worse, and if you want to keep your wood fence protected, you'll want to carry out a few maintenance measures.

Below, we're going to discuss the specifics of those maintenance measures, helping you to winter-proof your wood fence for the coming months. Take it from this Highland Park fence company: this is everything you need to do to prepare your wood fence for winter weather.
Apply a Sealant
Snow, sleet, rain, and ice can wreak havoc on the structural integrity of a wood fence. The more moisture that a wood fence is subjected to, the greater chance it has of warping, rotting, and deteriorating.
For this reason, before the severe winter weather comes around, you'll want to treat your wood fence with a sealant. A sealant will serve as a protective layer for your fence, preserving it from all types of precipitation.
One thing to note, however, is that most sealants last for a few years. Therefore, if you've applied a sealant within the last two years or so, there's probably no need to apply one now.
Rake the Leaves Away from Your Fence
As was noted above, moisture can absolutely decimate a wood fence. Therefore, when preparing your fence for winter weather, you'll want to do everything you can to keep moisture contact to a minimum.
While a sealant will go a long way in protecting your wood fence from moisture exposure, it's not quite enough. Another step you'll want to take is to rake leaves away from your fence. Leaves trap moisture; therefore, if a pile of leaves is sitting against the side of your fence, it is perpetually exposing your fence to moisture as well. Fortunately, the fix is simple—rake those leaves!
Fix Knots Promptly
Over time, as fences are subjected to more and more deterioration, they tend to form knots. When these knots first form, they can be quite small. However, if exposed to further deterioration, they will likely grow over time.
If you have knots in your wood fence right now, or if a knot forms in your wood fence this winter, it's recommended that you take steps to remove it as soon as possible. Failure to do so could severely compromise the structural integrity of your fence.
Filling wood knots is generally as easy as applying a wood filler. You can find out how to apply a wood filler by clicking here.
Trim Tree Branches
It's not just moisture that you should protect your wood fence from this winter. You'll want to protect it from physical trauma as well.
While physical trauma can come from a number of sources, one of the most common sources is trees. When ice freezes the branches on your trees, it can cause them to snap and fall. If your wood fence is in the path of a falling branch, it could incur serious structural damage.
The fix? Trim your tree branches! By trimming your tree branches, you will provide them with greater strength, vastly reducing the risk of them snapping and falling.
Utilize the Services of a Highland Park Fence Contractor
Unable to prepare your fence on your own? Looking to utilize the services of a Highland Park fence company? If so, Action Fence is the company to call.
We are well-versed in the maintenance of wood fences, having maintained thousands of them throughout the Highland Park area. Backed by decades of experience, our team can have your fence ready for winter in no time.
Contact us today to get the process started!