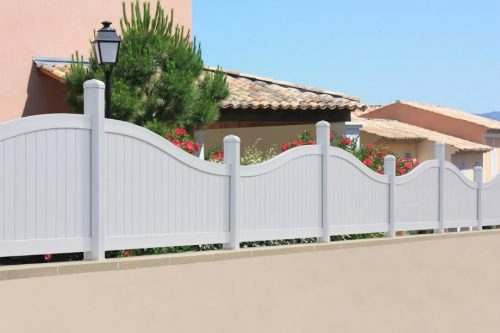 28 Feb

Chain Link vs Vinyl Fence: Which One Should You Opt For?

Are you thinking about installing a fence in your yard? If so, you're probably trying to figure out which type of fence is best for your purposes.

Maybe you've narrowed your options down to chain link vs vinyl fence, but aren't sure of which one to pull the trigger on? If so, you're in the right place.

This article is designed to compare the pros and cons of chain link and vinyl fencing so that you can make the right choice for your property. 
Chain Link
Pros
As Affordable as They Come
If your sole purpose for installing a fence is to keep your pets and children in your yard, a chain link fence would be a great option. Chain link is, without a doubt, the most affordable fencing material there is.
Require Very Little Maintenance
Not only is chain link very affordable, it's very easy to maintain as well. In fact, in most cases, there is no maintenance required for a chain link fence. The only possible maintenance that might need to be performed on a chain link fence is a coat of paint every few years.
As Durable as They Come
Chain link isn't just easy to maintain, it's also extraordinarily durable. In fact, the only fencing material that's generally more durable than chain link is cast iron (which costs a great deal more). You can typically expect to get around 20 years of use from a chain link fence.
Cons
Offers Very Little Privacy
The problem with chain link is that it provides little to no privacy. Passersby will be able to see everything in your yard through chain link.
Aesthetically Boring
While chain link fences are durable and easy to take care of, they're not exactly aesthetically marvelous. In fact, chain link is about the most boring type of fencing available.
Limited Security Capabilities  
Though they can typically keep dogs and children contained within them, chain link fences have almost no ability to keep outsiders from creeping into your yard. The only way they're capable of doing so is if you line with them barbwire like they do at prisons.
Vinyl
Pros
Easy to Install
Vinyl fences are exceptionally easy to install. They're essentially just driven into the ground and concreted into place.
Excellent Durability
Like chain link fencing, vinyl fencing possesses terrific durability. In fact, if it's properly cared for, it can last around 20 years (just as long as chain link).
Offers Tons of Privacy
Where vinyl has chain link undoubtedly beat is in its privacy capabilities. Whereas chain link leaves large gaps through which outsiders can see, vinyl, for the most part, creates an opaque barrier around your property. 
Aesthetically Various  
While chain link generally only comes in one boring color, vinyl fencing comes in a variety of different colors and styles. You shouldn't have any trouble finding the style or color of your choice when it comes to vinyl.  
Cons
Costs More than Chain Link
Where vinyl fencing flounders is in its price. Compared to chain link, vinyl fencing is more expensive. You have to pay for improved appearance and privacy.
Doesn't Thrive in Windy Conditions
While it's very durable for the most part, vinyl fencing can have trouble in exceedingly windy conditions. Because it possesses few gaps, it takes on a lot of wind resistance. A tornado can tear a vinyl fence right out of the ground.
Chain Link vs Vinyl Fence: What's Your Decision?
Have you picked a winner in the epic battle of chain link vs vinyl fence? If so, all that's left to do is to have your fence installed. Live in the Chicago area? Then we here at Action Fence are just the people to see.
As members of the American Fence Association, we are beyond experienced in the distribution and installation of fencing materials. Regardless of which type of fence you're looking for, we can accommodate you.
Contact us today for a free estimate!